Alkyd Resin Plant
We are engaged in manufacturing and exporting alkyd resin plants for our clients spread worldwide. These are available in various technical specifications and are appreciated worldwide for its unique features such as high durability, corrosion resistance and optimum utility.

In our range of alkyd resin plant, we offer oil alkyd resin plant and long oil alkyd resin plant.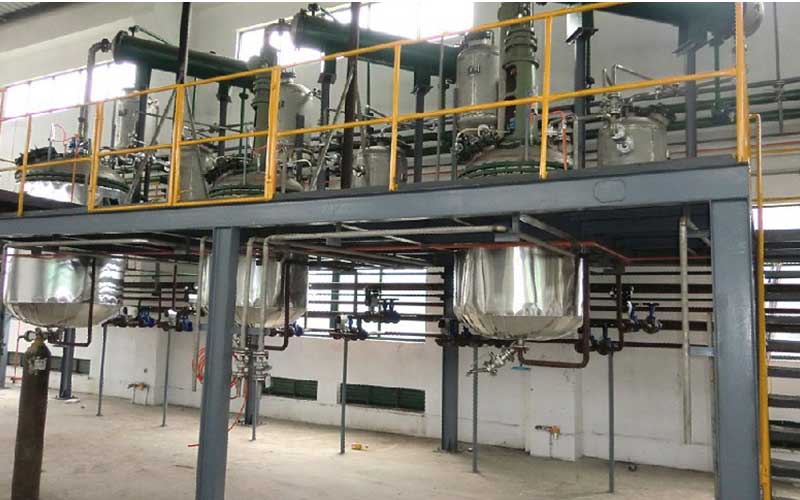 Oil Alkyd Resin Plant
Abster Equipment offer a wide range of oil alkyd resin plant, long oil alkyd resin plant etc that is used mainly in the manufacturing of the enamel paints. In our range, we can offer long oil, medium& short oil. The capacities of these plants vary from 1 Ton to 15 ton, batch on solid base. We also have the facility to offer multipurpose oil alkyd resin plant and long oil alkyd resin plant where in the plant can run on solvent process or by fusion process. The heating unit will be high temperature thermic heater.
What are Emulsions Emulsions are solvent free binders used in the preparation of paints and coatings. These are produced by the polymerization process where monomers are dispersed in an aqueous phase to get a uniform and stable emulsion. Paints and coatings based on emulsion systems are best in performance and are environment friendly. Functions of EmulsionsExcellent binding and hardness properties.Makes the paint elastic.Better sheen and gloss.Excellent U.V. resistance
.High pigment loading capacity. Acrylic Emulsion in PaintsDifferent types of emulsions used in paints are pure and styrene acrylic emulsions. These emulsions are economical and are easily available. Emulsion based paints are free of solvents and are fast replacing solvent based paints due to its functionality and environmental friendly properties. Manufacturing Process The processes involved in the formation of acrylic emulsion resin are complex and vary extensively. The production of low molecular weight dispersant product generates significant quantities of wastes. Acrylic Emulsion Production Different acrylic emulsion formulations are produced by frigmaires acrylic emulsion resin plant.
The steps involved in acrylic emulsion production varies greatly from product to product. Steps involved in the production of acrylic emulsion are listed below: Raw materials for the emulsion line include monomers, additives, activators, and catalysts in liquid or solid form. For stabilization, some monomers are pre-mixed with inhibitors. Catalysts are used for activating the monomers and initiating the desired reactions. Activators activate the catalysts, initiates the reaction, besides overcoming the effects of the inhibitors. Additives used in the mixture include detergents, dispersants, and pH-adjustment ingredients. There after, the monomers are pumped from tanker trucks to monomer tanks for storage.
From the storage tanks, monomers are pumped to holding / premixing tanks, additive, activator, and catalyst holding tanks where mixing occurs. The additives, activators, and catalysts can be directly added to the reactors without being mixed with monomers in their respective holding tanks. Then, the raw materials are mixed together in one of three temperature- and pressure-regulated reactors where polymers are formed. The desired chemical reactions are initiated by addition of catalysts and are regulated with additives or by pressure and temperature adjustment. The resulting acrylic emulsion polymers are pumped to blend tanks. Formalin is added in the blend as a preservative to control bacteria and mold growth and ammonia is added to for pH adjustment. Sodium hydroxide is another pH-adjustment chemical, added in the blend tanks. Ingredients such as emulsions, emulsifiers, surfactants, binders and thickeners are added to modify monomer viscosity, to stabilize the polymers and to hold the polymers in suspension.Finally, deionized water is added to lower the solids content.
After each polymer batch is processed, the blend tanks are flushed with deionized water which is further pumped to the plant's wastewater treatment system. Wastes generated during different processes include composited absorbed monomers, burnable liquids, and off grade methylolacrylamide / acrylamide. Most of the composited absorbed monomer waste are generated from spillage during loading and unloading of the rail cars or from batch spills and reactor clean-ups.
SALIENT FEATURES
Our rich industry experience helps us to offer Jacketed Reactor, Limpet coil reaction Vessel which is available in different capacities ranging from 0.1 KL to 25 KL. These are fabricated from high grade raw material including stainless steel (304, 316), MS, hastelloy, titanium and nickel, which is procured from renowned vendors. These high performing Reactors find wide application in chemical and pharmaceutical industries for the following features:

Type: Jacketed Reactor, Limpet Coil Reactor, Multipurpose Reactor with internal Coils
Capacity : 20 Liters to 20,000 Liters In AISI SS 304, AISI SS 316, M.S, MOC, in Standard & CGMP Model Construction
With M.S/ S.S jacketed & insulation with SS cladding.
Direct top mounted stirrer with top dish / without top dish
Different type of stirrer i.e. propeller / pedal / anchor available