Contact Us
Mobile :
+91 98790 91953
+91 94275 54374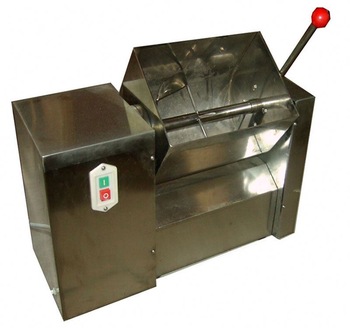 V type pharmaceutical powder mixer machine/v shape powder mixer/industrial powder mixer, Pharmaceutical Powder Mixer Machine, Lab Powder Mixer, Industrial Powder Mixer, Pharmaceutical Powder Mixer machine, High Mixing Efficiency industrial pharmaceutical powder mixer machine, Pharmaceutical grade powder mixer machine for food medicine chemical
Mass Mixer
We provide high tech Mass Mixer that is widely used in various industries to mix a wide variety of materials. We are well reckoned as one of the key Industrial Mass Mixer Manufacturers and suppliers based in India. Our Mass Mixer Machine is manufactured from the finest quality raw materials to add durability and efficiency. Robust construction of our Mass Mixer Machine assures low maintenance cost. Mass Mixer Machine offered by us is easy to operate and maintain.




Product Description of Mass Mixer



Shell
Consisiting of 'U' trough of suitable dimensions. Construction of S.S. and side plates duly M.S. stiffened from outside and from inside with S.S.

Mixing Mechanism
Paddle type blades welded to the main shaft provide for efficient mixing of thick heavy material. PTFE gland mechanism provided at shaft ends prevents ingress of external powder into the trough and prevents leakage.

Charging
From the top charging can be done through a hingeable lid, hopper or Nozzle can be provided for additional spraying of additives.

Discharge
By bottom discharge slide Iris or Butterfly valve of suitable diameter, for regulated discharge.

Drive
Consisting of suitable H.P. TEFC 3 phase ac 415v / 50 cycles motor coupled to suitable worm gear, with driving shafts mounted on suitable plummer block.

Mounting
Mounted on suitable ISMC Section Stand, with protective covers for belts and couplings.

MOC
All contact parts in S.S. Constructions. Complete unit with S.S. cover and all surfaces polished to mirror dull finish. MS parts dull painted to smooth finish.

Options Available
The control panel is mounted on platform and is provided with


Unit with FLP
Unit in S.S. 316
GMP Model with M.S. parts cladded with S.S.

SALIENT FEATURES :



The Mass Mixer Machine is basically mixing an assembly wherein the mixing stirrer is in horizontal position in the container & has a single speed, simple rotation.
The stirrer rotates around it self at a very slow speed inside the bowl and thereby achieving intimate mixing of dry or wet materials of Tablet Granulation, Powder, Chemicals, and Food & Confectionaries Materials.
The equipment consists of paddle like blades for efficient granulation and mixing of material and is provided with leak proof seal tilting arrangement for ease of unloading the material.
These blades are placed in a horizontal position and have a single speed rotation.
The machines are provided with transparent poly-carbonate dust cover with inter locking system to view the raw material being mixed.
The motor driven machine is also equipped with safety switch to automatically stop the mixer as soon as the cover id opened.
Mass mixer can be mix the sticky materials & also uniformly and intimately mix the materials which are to be difficult to mix.