Autoclave Sterilizer
ETO Sterilizer India, ETO Sterilizer Manufacturer, Ethylene Oxide (EtO) Sterilization Process. We are the Manufacturer, exporter and supplier of ETO Sterilizer across the Gujarat located in Ahmedabad, India.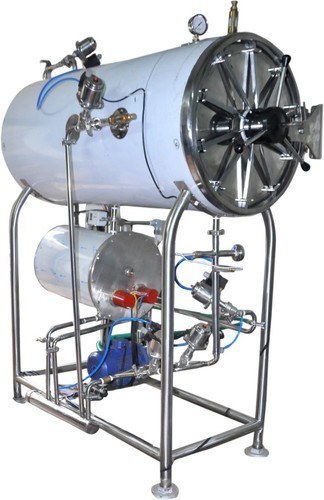 Salient Features:
Shell consists of Drum Chamber and Steam Jacket with Outer Cover. The Drum Chamber and Steam Jacket are made of thick SS 304 Grade Sheet.
The Whole Shell is mounted on a sturdy M.S. tubular Stand.
Boiler fitted under the shell to generate steam and maintain the Steam Pressure in the Steam Jacket and Drum Chamber through Stainless Steel Pipeline fitted with Stainless Steel Sockets.
Boiler fitted with Auto Pressure Control Device to set and maintain the Drum Chamber pressure by maintaining electric supply to heater. It also economizes the power consumption.
Door is made of thick stainless steel Plate. Door has a safety mechanism which automatically locks when Drum Chamber is having pressure. This prevents opening of door during operation to avoid any eventuality of accident.
Sterilization Cycle is controlled by Stainless Steel Three way valve or multi port valve.
Standard Accessories:
Auto Pressure Control device (auto cut off safety device for overheating) to maintain the required pressure.
Automatic Vacuum Valve fitted with Drum Chamber for regular exhaust of vacuum.
One hour timer switch adjustable for any required time for sterilization and after that period this will disconnect the heaters.
Alarm switch for the indication of pressure.
Automatic Low Water Level Cut off device for heater safety.
Digital Temperature Display.
Water level indicator & Safety valve fitted with boiler.
Steam Jacket Pressure Gauge and Safety Valve fitted on the Top Front of the Autoclave.
Drum Chamber Pressure Gauge and Safety Valve fitted on the Top Front of the Autoclave.
Water inlet & Outlet valve.
Instrument rack with tray.
Safety Devices:
Boiler Safety Valve.
Boiler Auto Pressure Control Device.
Steam Jacket Safety Valve.
Drum Chamber Safety Valve.
Auto Door Lock Mechanism.
Sizes:
20" x 48" Electric (500x1200)mm
20" x 36" Electric (500x900)mm
16" x 24" Electric (400x600)mm
-: Specification :-
| | | | | | |
| --- | --- | --- | --- | --- | --- |
| Model | ABF 150 | ABF 175 | ABF 235 | ABF 180` | ABF 430 |
| Capacity | 150 Lts | 175 Lts | 235 Lts | 180 Lts | 430 Lts |
| Chamber dimensions | 400 x 1200 mm | 500 x 900 mm | 500 x 1200 mm | 450 x 450 x 900 mm | 600 x 600 x 1200 mm |
| Construction chamber | SS 316 / 304 | SS 316 / 304 | SS 316 / 304 | SS 316 / 304 | SS 316 / 304 |
| Power consumption | 9 Kw | 9 Kw | 12 Kw | 12 Kw | 18 Kw |
| Operating pressure | 1.2-2.1kg/cm 2 | 1.2-2.1kg/cm 2 | 1.2-2.1kg/cm 2 | 1.2-2.1kg/cm 2 | 1.2-2.1kg/cm 2 |
| Operating temperature | 121 0 C-134 0 c | 121 0 C-134 0 c | 121 0 C-134 0 c | 121 0 C-134 0 c | 121 0 C-134 0 c |
| Voltage | 440 V | 440 V | 440 V | 440 V | 440 V |
| Control | Pressure switch | Pressure switch | Pressure switch | Pressure switch | Pressure switch |
| Gross weight | 500 kgs | 600 kg | 690 kg | 900 kg | 1350 kg |
| Shipping size (mm) | 925 x 1900 x 1850 | 1050 x 1600 x 1850 | 1050 x 1900 x 1850 | 1150 x 1750 x 2150 | 1300 x 2050 x 2300 |

online eto sterilizer, eto sterilizer price in uae, south africa, egypt, eto sterilizer specification, eto sterilizer design, eto sterilizer manufacturer, eto sterilizer India, vietnam, tanzania, turkey, eto sterilizer exporter in malaysia, bangladesh, nepal, saudi arabia, russia, its all about eto sterilizer, Ethylene Oxide Steriliser, EtO Sterilization process, eto sterilizer manufacturers, eto gas sterilizer, E T O Sterilizer, Ethylene Oxide Sterilization, E T O sterilizer manufacturer, Ethylene Oxide (E.T.O.) Sterilization Process,